Are you looking for a highly versatile yet affordable microphone that can serve your diverse needs? Then you have got a plethora of options to pick from. Choosing a perfect product from the lot is always challenging when you are a less technical savvy person. Go through the following review on TONOR TC-777 that will help you to get rid of all your doubts. After browsing the following review, you will find out several reasons that make this device stand out in the competition. Let's check the unique features of TONOR TC-777 USB Microphone:
Design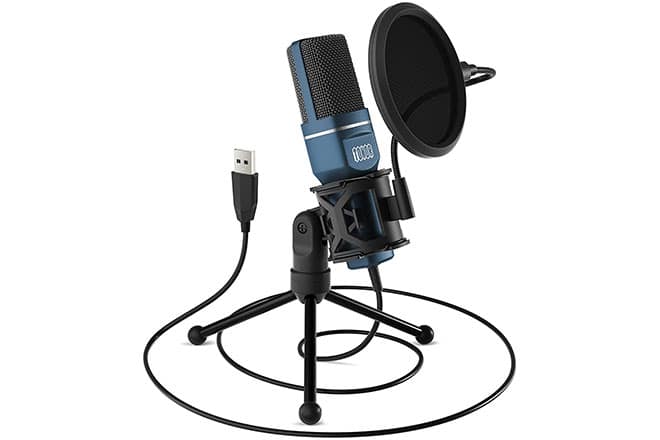 TONOR TC-777 will be recognized for its extremely user-friendly and driver-free design. You don't need any technical knowledge to use it as setting up a USB microphone is extremely handy. The appearance of this device is extremely awesome and it is extremely compact in size thereby making it one of the most compatible USB microphones of today's time. The stand is highly durable which makes it an ideal device to carry outdoors.
You may like: Top 10 Most Wished Multipurpose Dynamic Microphones.
Cardioid Pickup Pattern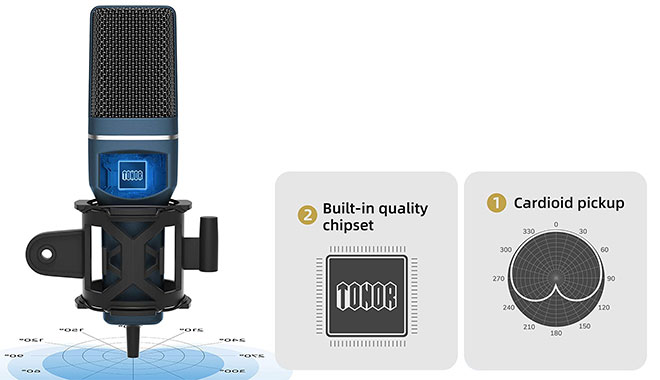 TONOR TC-777 comes with a most talked about cardioids pickup pattern. On the virtue of this high-end feature, the microphone offers an extremely crisp, smooth, and clear sound. It easily overlooks unnecessary background noise thereby making sure that any user gets exactly what he wants in the recording.
Plug & Play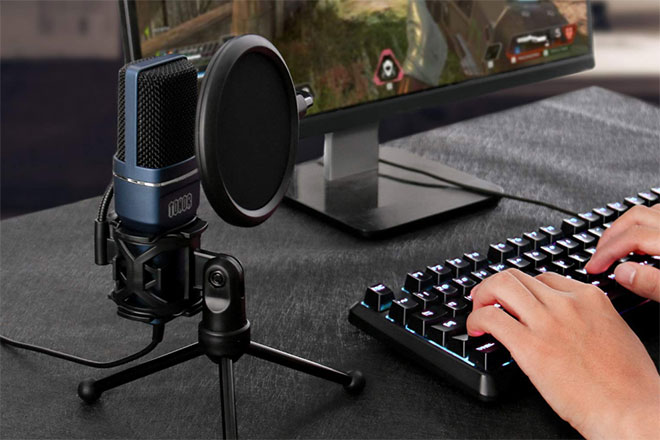 The USB 2.0 data port of TONOR TC-777 makes sure that you don't require any driver software, phantom power, or sound card to get going. All this makes, TONOR TC-777 an ideal device for YouTube video recording, voice-over, Skype call, podcasting, chatting, streaming, and online gaming. The noise-canceling technology of this USB microphone is definitely above average that makes it a perfect device to look after multiple activities.
Ease in Installation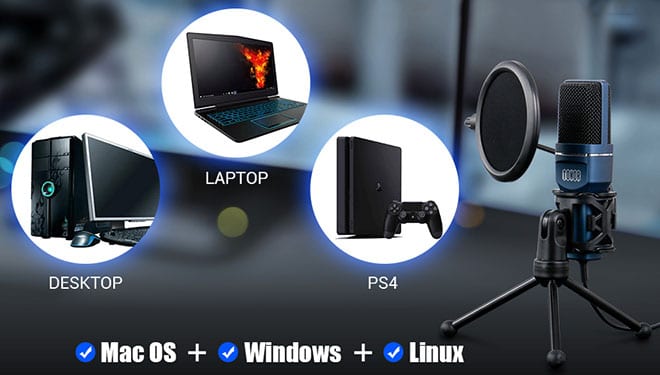 TONOR TC-777 is extremely easy to install and the only thing you need to do is unfold the stand to get started. Once you set the pop filter position correctly, you can easily plug in and play. It is highly compatible with Apple, LINUX, and Windows systems. It also supports PS4 thereby becoming one of the preferred choices of game lovers.
Highly Versatile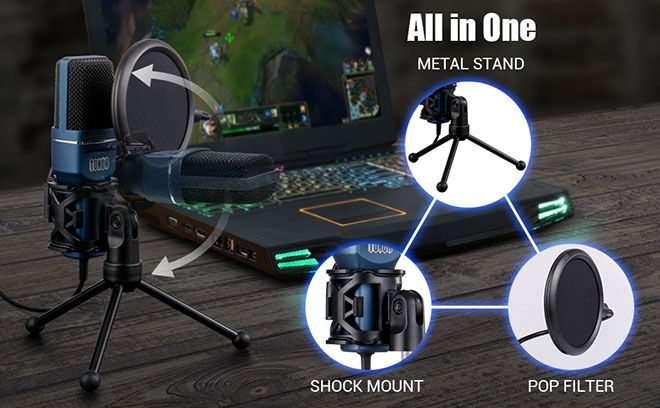 TONOR TC-777 is one of the versatile devices that is not only suitable for home use but you can consider using it for live broadcast as well. You can easily remove the shock mount and attach it to stand to achieve perfect settings. TONOR TC-777 also comes with an extremely incredible quality cardioid mic capsule that offers highly precise and reliable pickup. The microphone stand comes with an amazing 3-legged base that folds up and retracts every easily.
Technical Specification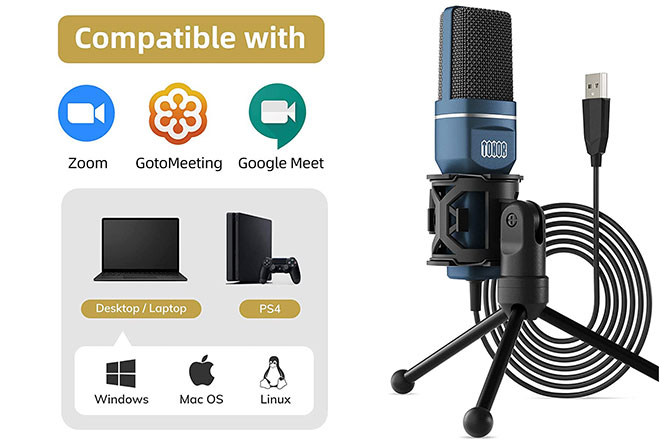 TONOR TC-777 comes with a frequency response of 100Hz – 16 kHz and a sensitivity of -38dB±3dB.
The output impedance of 680Ω and S/N ratio of 56dB separates it from other USB microphones available in the market.
Price, Availability & Package Includes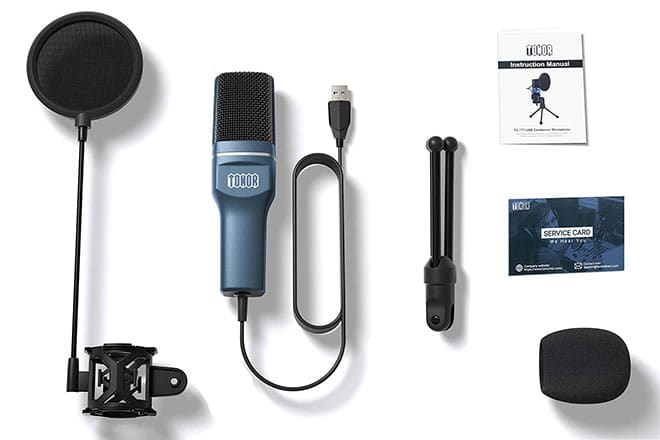 TONOR TC-777 is available on reputed eCommerce online stores like Amazon and you can purchase it at the price of around $42.
The package of TONOR TC-777 comes with several important accessories that are worth checking out. It features the main microphone, Mic Tripod, Pop Filter, Mini Shock Mount, Power cord, service card, and user manual that will guide you through its installation process.
The package comes with all the accessories that you are going to need to get the best out of this device. Once you have all this, you don't need to purchase anything to get going.
Limitations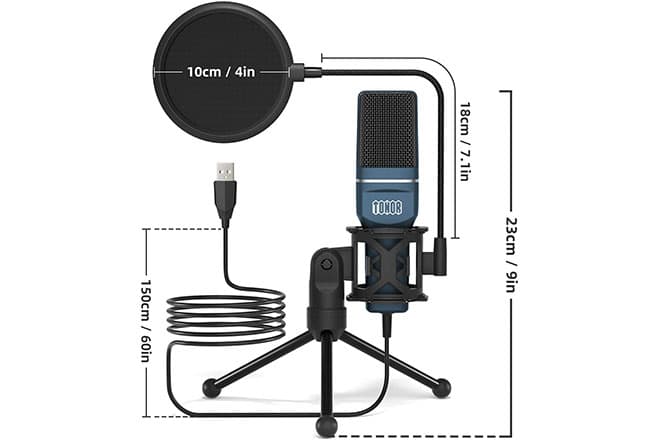 TONOR TC-777 comes with a short cable of 1.5M but it doesn't put any restrictions when it comes to user experience.
This USB microphone is recognized for amazing sound quality but you may experience a bit noise floor when you switch to high volume.
You can only keep a tripod on the flat table and sometimes it is difficult to hold the microphone extremely close to your mouth.
You may also like: TONOR Q9 USB Microphone Kit Review – An Excellent Plug & Play Microphone Set.
Conclusion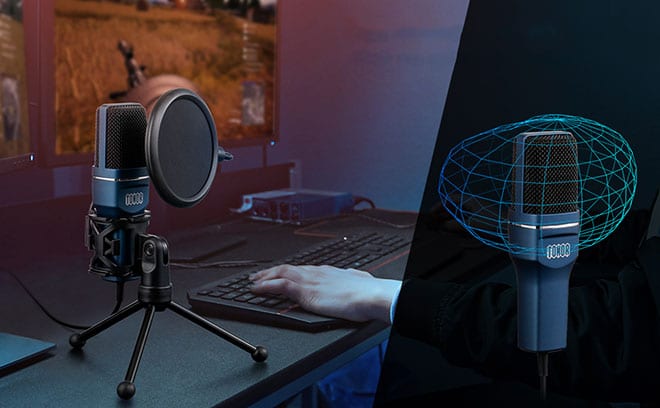 TONOR TC-777 is an ideal choice if you are searching for an entry-level microphone within the price range of $50. It is truly value for money product that offers more than what a user expects from this price. Whether you are planning to set up your own home studio but on a limited budget then TONOR TC-777 is all you need.
Review Breakdown
TONOR TC-777 is an ideal choice if you are searching for an entry-level microphone within the price range of $50. It is truly value for money product that offers more than what a user expects from this price.