Whether you are recording a musical track, podcast or simply doing a field recording, you need to make sure that you achieve high-quality audio in each of the cases. The condenser microphone has a vital role to play in different scenarios as it offers ideal sensitivity to catch subtle nuances along with small frequency responses. TONOR Q9 USB Microphone is one such a tool that will get the job done for you. Here we have created an exhaustive review on TONOR Q9 USB Microphone that will make you well versed with all the features of this amazing product:
Easy to Plug & Play: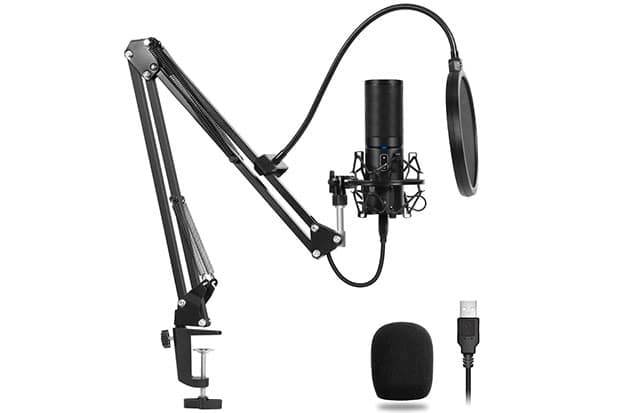 Whether you have a Mac or Windows PC, you will find TONOR Q9 microphone extremely convenient to connect. You don't require any additional sound card or software driver to get going. It is ideal for multiple tasks such as online chatting, gaming, live streaming, video/audio recording and podcasting. The device is highly compatible with different operating systems which mean you have a luxury of using it with the home as well as office devices. Besides, you don't need to purchase power supply peripherals to play this device.
You may like: Top 10 Most Wished Multipurpose Dynamic Microphones.
Great Sound Quality: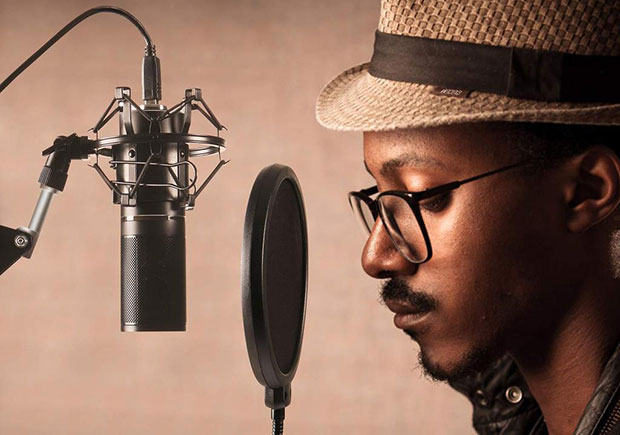 As far as the sound recording is concerned, TONOR Q9 USB Microphone has pushed all limits. It features a cardioid polar pattern that lets it catch sounds even with higher fidelity. The device also features premium sound chipset, large frequency response, and diaphragm of size as large as 16mm. All this allows the microphone to achieve high dynamic range, warmth, clarity and greater SPL capability that other devices fail to offer. The incredible recording quality of the microphone makes it handy for video makers, vloggers, gamers, podcasters, musicians, actors, and singers.
TONOR Q9 USB Microphone also comes with anti-noise technology that makes sure you won't face any form of external disturbance while recording.
Outstanding Design: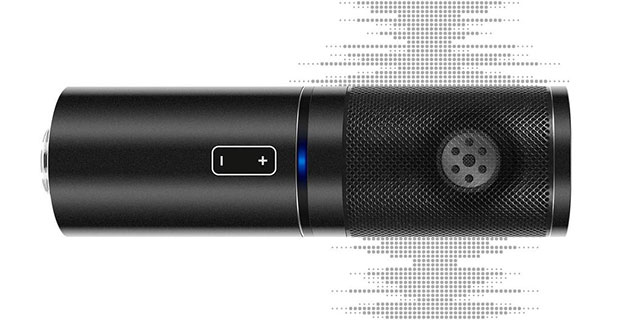 The manufacturers of TONOR Q9 USB Microphone have put a lot of efforts in crafting its design and it will be known for offering smooth user experience. All the buttons including volume keys of this device can be accessible with utmost ease thereby making sure you execute all recording activities without any interruption.
It has got a firm support base along with great impact resistance. The additional sturdiness in its body makes it a long-lasting device. To turn on the microphone, you simply need to short press the volume button. You can adjust the gain level of the mic to control its volume. The device also features switch indicator in blue color. To turn off the microphone, simply press the volume button for 3 seconds.
Highly durable scissor arm stand:
The scissor arm stand of this device is manufactured from extremely solid and premium quality steel material. It can swivel up to 360 degrees thereby offering extreme flexibility to hold the system. The mount comes with a thickness of 5.1 cm that makes sure you have a lot of scope for customization.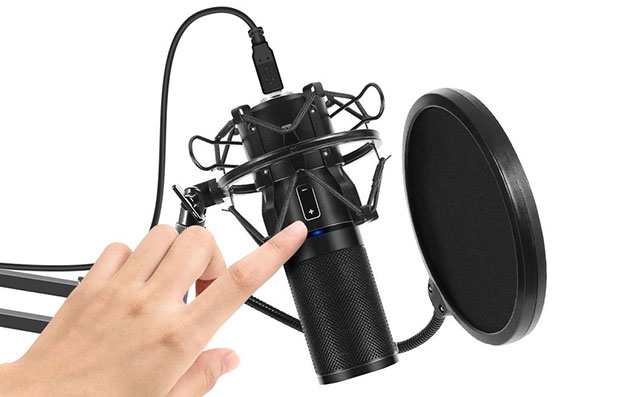 Other features:
TONOR Q9 USB Microphone comes with 20Hz – 20kHz frequency response. It has got a bit rate of 16bit and sample rate of 48kHz. The SNR of 97db lets this device to stand out in the competition.
Strong Customer Support: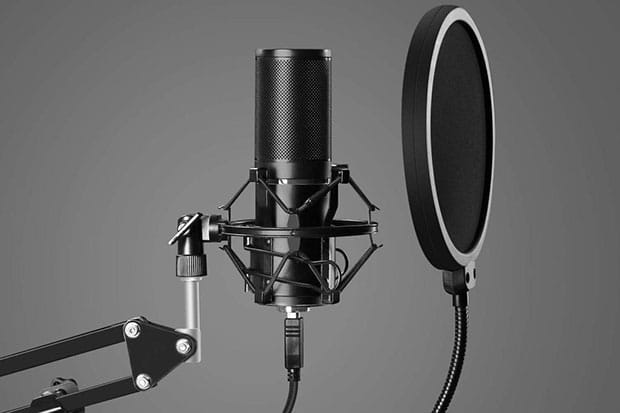 TONOR Q9 USB Microphone is a highly compatible device and you won't face any difficulty in using it with different kinds of computer systems. However, if you come across any issues related to the compatibility of this device then you can get in touch with the customer support of TONOR and get your queries resolved.
Contents of TONOR Q9 USB Microphone Kit: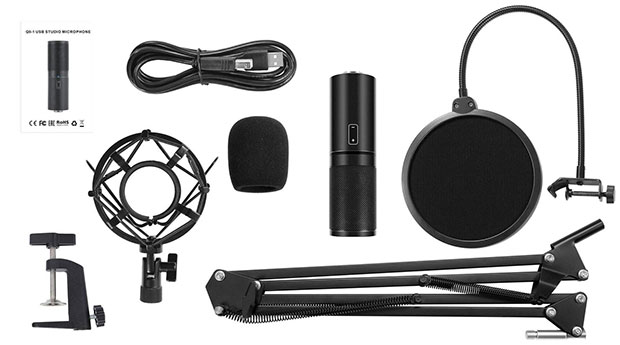 The whole package of TONOR Q9 USB Microphone Kit features metal shock mount, desk mount clamp, scissor arm stand, pop filter, condenser microphone, USB A to B cable and foam mic cover. The seller has made sure that you don't need to go anywhere to purchase accessories for this device as the kit itself is all-inclusive.
You may also like: What Kind of Eye-Protection Desk Lights Is Worth to Choose?
The Bottom Line: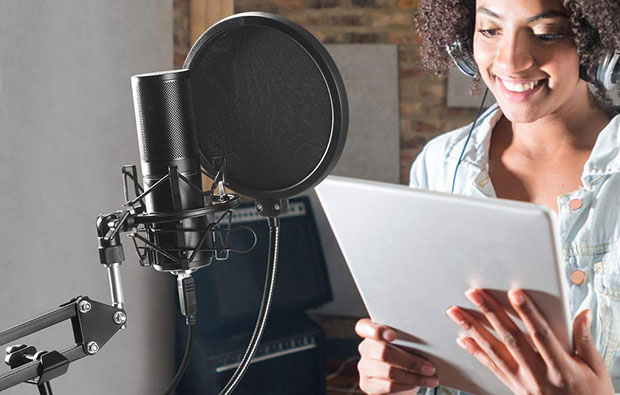 With TONOR Q9 USB Microphone, the lengthy and complicated setup procedure has become history. The built-in drivers are there to boost the performance of the device and you can get going only after following few steps. The premium specification of TONOR Q9 USB Microphone also makes sure you will get an extraordinary recording experience. It appears like an expensive DJ system but costs very less. The product is available to purchase on Amazon at a price of around $50 which is worth paying for such a top-quality product.