Today, backpack style diaper bags are becoming more and more popular, especially for new dads who might not prefer tote-style diaper bag. Such backpack style diaper bags are useful for dads who are self-conscious about carrying a diaper bag. There are various advantages of such diaper bags as they are hands-free and can help you in carrying quite a bit of weight. These diaper bags make it easier to store, organize and quickly find all the necessary baby gear with no trouble. Also, having the weight of the bag evenly distributed over both shoulders than just slung across one, can make the difference when you're out for sight-seeing all day.
There are various backpack style diaper bags available in the market to keep your baby supplies organized and neat. While choosing the best diaper bag for you and your baby, you need to consider certain things including durability, comfort, size, pockets, zippers, compartments and of course, style! Let's take a look at three popular diaper bags from FIVEMAX, RUVALINO & Vogshow to help you select the best diaper bag that best suits your needs.
Recommended for you: Top 10 Best Sellers in Diaper Bags.
FIVEMAX Backpack-Style Diaper Bag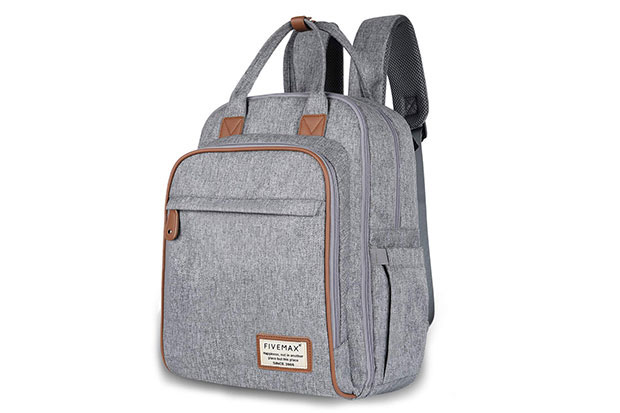 FIVEMAX is one of the popular diaper bags which has nearly all the features of a perfect diaper bag at a reasonable price as compared to RUVALINO Diaper Bag which is expensive than FIVEMAX. This is an excellent waterproof & dustproof model which is perfectly balanced in style and function. It is made of high-quality material and using a top-quality zipper.
The interior of FIVEMAX bag is spacious enough and has 16 functional pockets to store and keep all the necessities organized. It is roomy enough to hold several diapers, bottles, wipes, burp cloth, extra clothes, changing pad, pacifiers, moisturizing lotion, and other essentials. The bag also comes with upgraded insulated bottle pockets in order to maintain the temperature of your baby bottles or food.
Measuring 11.8" L x 7.8" W x 15.7" H inches, the diaper backpack is designed to improve the carrying experience. Suitable for everyday use and outdoor activities, it can be used as a backpack, as a stroller as well as a handbag. Neutral for mom and dad, the bag allows you to keep both your hand free and makes it easier to travel with babies without any mess or worries.
Buy FIVEMAX Diaper Bag from Amazon
RUVALINO Diaper Bag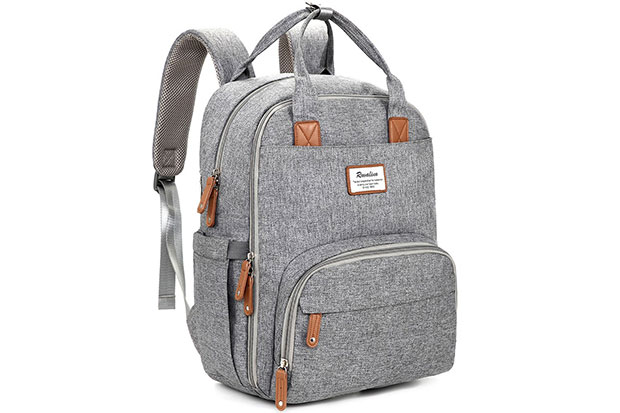 Perfect for both mommy and daddy, RUVALINO Diaper Bag is an ideal combination of style and functionality. Spacious enough to hold many of baby essentials, this backpack style diaper bag contains all the must-have features of a classic diaper bag – 2 main big compartments along with 16 pockets for the perfect organization of all the necessities. The bag can hold everything you'd need for your baby without being bulky. Given its features, its insulated bottle pockets are able to hold most of wide neck baby bottles.
Designed for convenience, the bag measures 11.8" L x 7.8" W x 16.5" H inches with 23" L x 15" W inches mat, making it spacious. Its extra wide opening makes it easy to find the baby essentials in a pinch, and its dual zippers offer easy access and closure even with a single hand. The bag is lightweight, durable and is made of waterproof fabric, and comes with a waterproof changing pad.
Buy RUVALINO Diaper Bag from Amazon
Vogshow Diaper Bag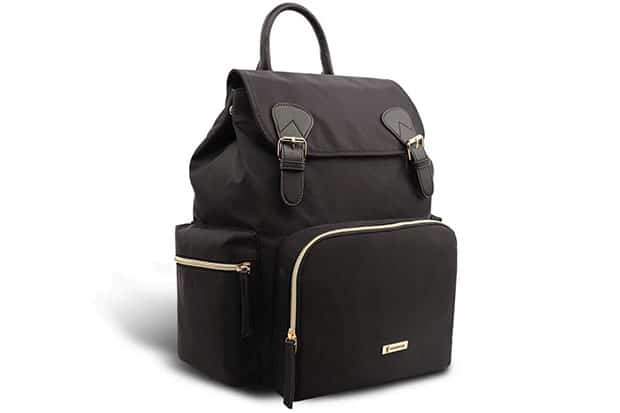 Vogshow Diaper Bag is a stylish yet comfortable backpack, a perfect holiday alternative to the regular shoulder-strap diaper bag.  This chick multi-functional diaper bag is an all-around waterproof, lightweight bag made of eco-friendly and high-quality material.  Easy to clean and wipe, stylish Vogshow Diaper Bag is best for mommies looking for a trendy option in diaper bags.
Measuring 15.7" L x 7.8" W x 13.7" H, the bag contains 13 compartments with 3 insulated bottle pockets in front, 1 insulated pocket inside, 2 side pockets for snacks or tissue, 1 dry-wet separation pocket for wet clothes. The multi-pocket bag offers enough room for your baby essential items. The bag also has 1 key chain in the main pocket that makes it easier to find your keys. The bag closes with 2 magnetic buttons rather than zippers with metal frame, making it easier to open the bag with one hand. It also has back zippers which allow you access to the inside of the bag directly, instead of going through the top.
Unlike other similar backpack-style diaper bags, Vogshow diaper bag comes with a large insulated pocket inside the bag. These pockets help you keep the baby milk at the desired temperature. The bag also contains an anti-theft pocket to protect your wallet, cards, keys, and cellphone. Vogshow is very comfortable for both mommy and daddy as its soft and adjustable shoulder straps help you carry more weight while traveling. You can also carry it as a handbag, single shoulder bag, tote bag, or hang it on the stroller, trolley or shopping cart.
The Vogshow diaper bag backpacks have trendy appearances and never look like a diaper bag, rather look like a fashion backpack. It is a good option for new parents looking for a functional diaper bag while still looking stylish/chic.
Buy Vogshow Diaper Bag from Amazon
You may also like: Top 10 Best Sellers in Diaper Changing Tables.
The Conclusion
Finding the best diaper bag can be a huge task for many new moms and dads. Fortunately, there is no shortage of excellent choices in the market. For those looking for a stylish yet functional backpack styled diaper bag, you definitely can't go wrong with FIVEMAX Backpack-Style Diaper Bag. It's affordable, hip and very useful to make it your go-to choice. It has a stylish design, great construction, and all the functionality that new parents need in a diaper bag. The backpack is also spacious enough that you can stash some of your own essentials too.