The trend of TikTok Videos and Instagram reels surely has increased over the past few years. Not only has this, but the pandemic crises also increased the dependency on the Zoom confidences where we of course would what to be showcased with confidence even when the surrounding has the low lights. Thanks to self-rings that are available in the market now, you can now improve the video quality with optimized lights as well. Talking of which TONOR brings you the best option for its creative and upcoming stars and artists with the TONOR TRL-20 Selfie Ring.
This is one is an all-in-one combo that improves the quality of your video be it for YouTube streams, Zoom conferences, or TikTok Videos compatible with Android and iOS systems. It is loaded with some of the features given below:
Design and interface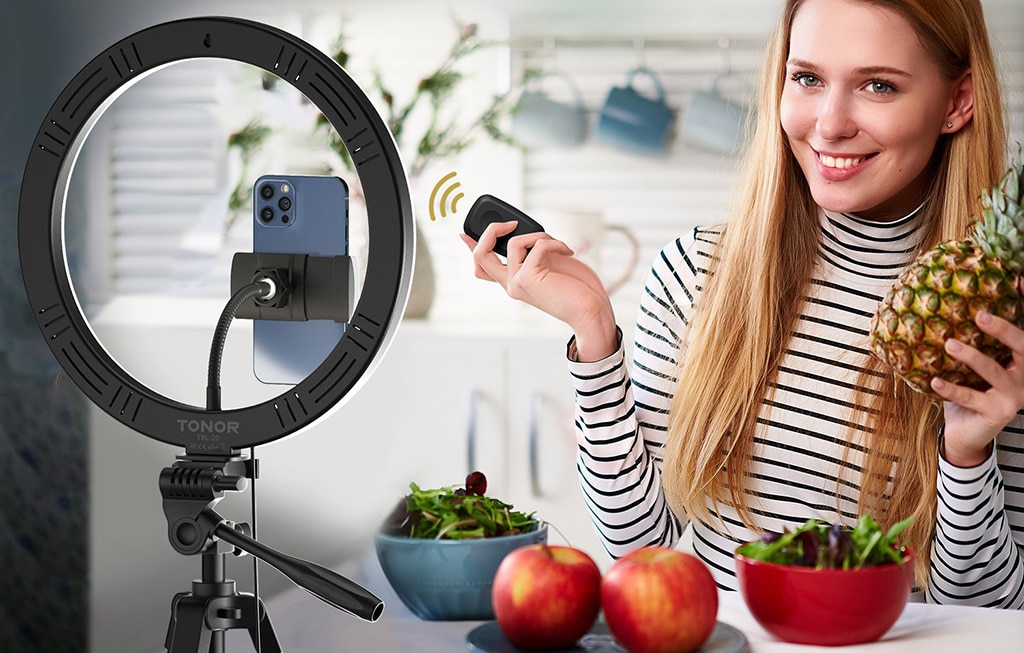 If you compare the TONOR TRL-20 selfie ring with other selfie rings, well there is nothing unique in terms of the design. It is one medium size ring of 12-inch diameter and one-way luminous. On the SMD light's edge, there are reflective silver sheets used which prevent any light from damaging the view.
Talking about the interface, well nearly 905 of the lights comes with a power cord but that is not what you see in TONOR TRL-20. There is only one interface which is a standard USB cable which gives you good comfort. You can attach it to a power bank, laptop, PC, and even USB port on the socket easily since it is quite lengthy.
You may like: 10 Key Accessories All Photographers Should Have in Their Bag.
Performance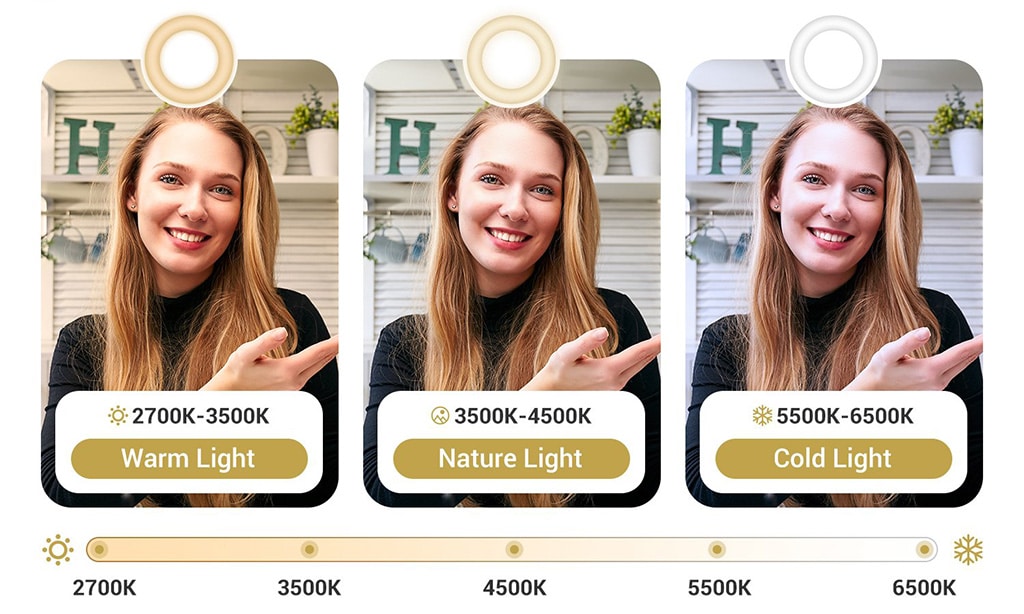 Talking about the performance, well you get different light modes in his selfie ring cool, warm, and natural. It gives you 800 lumens maximum brightness while 500 lumens the minimum one. There is the consistency of the light which is equally distributed. In terms of durability, be rest assured because it comes with electrostatic shielding technology and overvoltage protection which is why performance will not lessen down at all.
There are so many ring lights that you may find uncomfortable but that is not what you can expect from TRL-20. Since it is made of LED lamps of 160 high qualities, you get better brightness over the options of light with 10-inch. Besides the lights used can give your skill look a lot smoother when on camera.
This is one of the best selfie rings you can consider buying since it comes with the right parts and accessories to ensure you will be able to use it with convenience when you shoot. Bluetooth remote trigger is one of the best accessories you may want to try out.
User friendlyness and versatility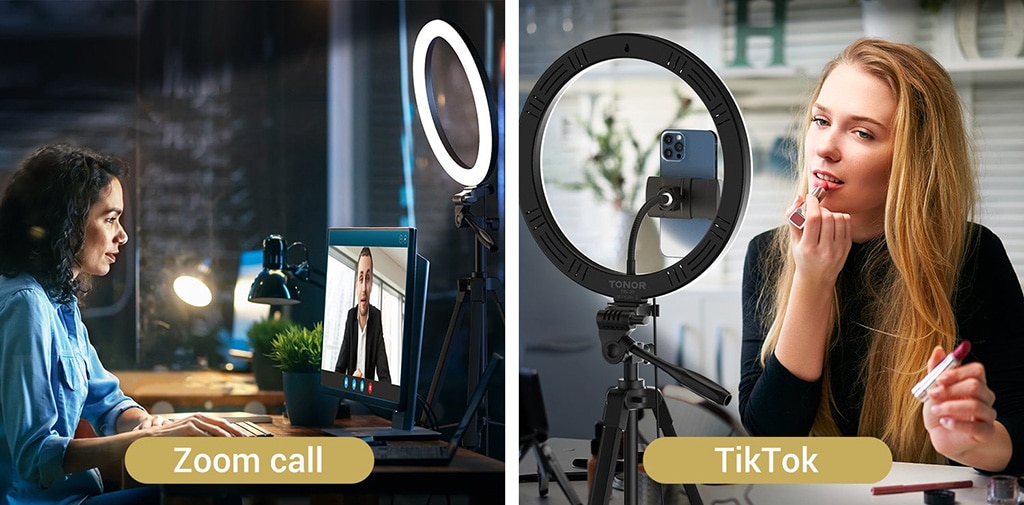 TRL-20 can be the best ring light that you can choose because of its easy option. Thanks to Bluetooth remote control, you can even adjust the brightness and use other features; it saves your valuable time walking back to the light settings always.
This is one versatile product trending in the market. It not just gives a good shooting each day but is best for a professional purpose like marketing content, makeup tutors, and even zoom conference call.
Other significant features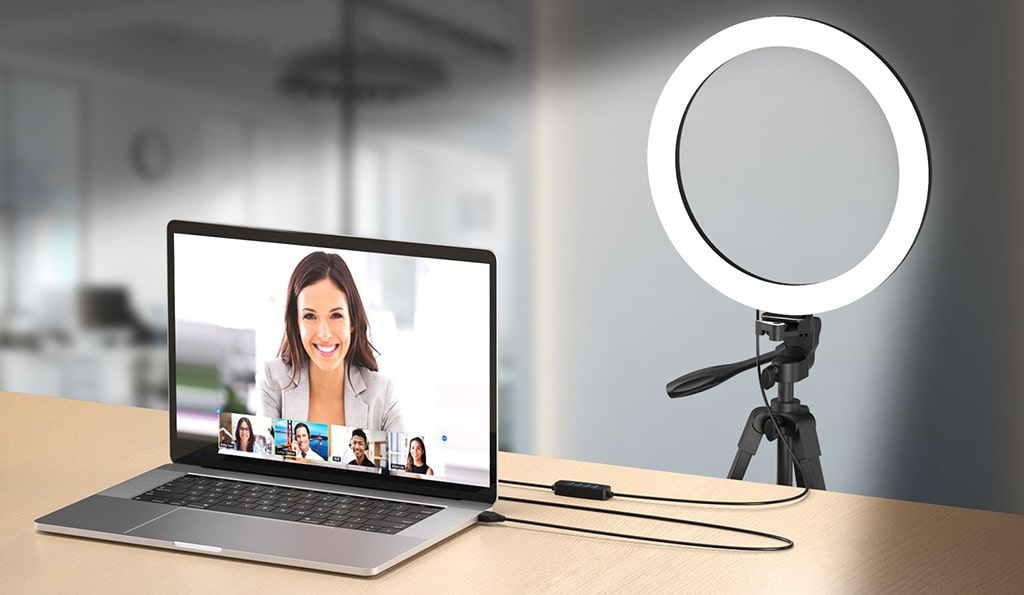 This ring light comes with 3 color modes whose temperature may vary from 2700K-6500K. It also has 10 brightness levels.
There are built-in 160 high-quality LED bulbs for better brightness of more than 30% as compared to 10″ ring light.
The hardware of this light uses a high-quality light board and electrostatic shielding tech. Thus, it increases its lifespan up to 20000H.
You can make the best use of four retractable sections that can help in adjusting the height 16″ to 52″. Besides, the structure is a triangle with anti-slip rubber for better stability.
You can easily switch modes of the color. You can also adjust the brightness using the control button that you get on the USB cable.
Bluetooth remote controller can control the camera of the phone. You can capture videos and pictures using this controller.
Packaged includes, price and availability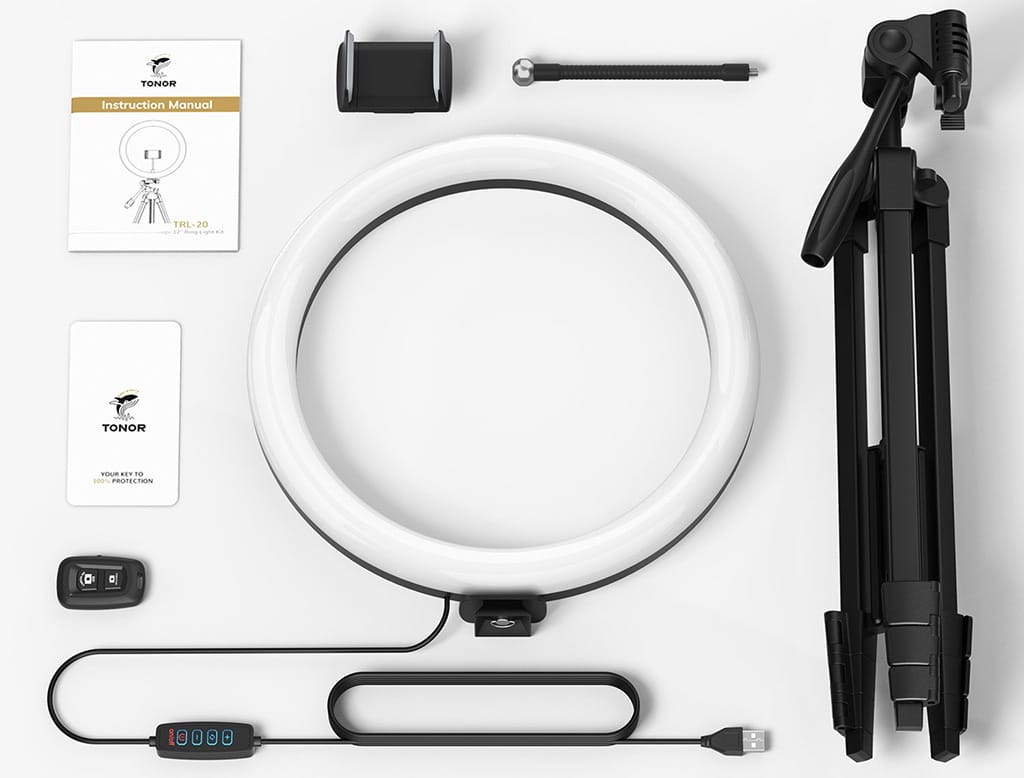 You get an Adjustable Metal Tripod Stand, Ring Light with USB Power Supply, Bluetooth Remote Shutter, Manual, and Mount Phone Holder which is completely adjustable. You can find this ring on TONOR's official website or even at Amazon US. Do not worry about the price; it's just $49.99 which is worth it.
You may also like: How to Choose and Pack the Best Camera Gear for Travel Photography?
Final words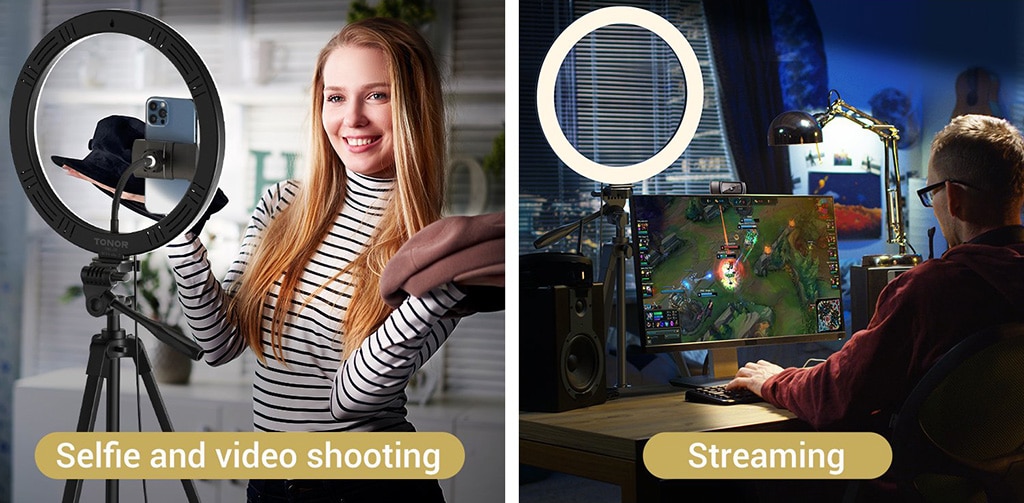 TONOR has always come up with the best quality professional audio recording devices. And their affordable price point surely would not empty your wallet at all. Considering the pricey audio gear options that are available in the market, TONOR creates some cost-friendly masterpieces. And the TONOR TRL-20 selfie ring is one of them. This product is unique; its unique feature to control the brightness at different levels and using it with no hassle. This surely is the best option to buy for the best pictures and video quality.
TONOR TRL-20 - Review Breakdown
Considering the pricey audio gear options that are available in the market, TONOR creates some cost-friendly masterpieces. And the TONOR TRL-20 selfie ring is one of them.