If you are here it is because you are aware of the importance of exercise for your health, both current and future. You also probably know that in addition to moving around a lot and doing some cardio, it's important that you train with strength exercises. With that said, today we are going to discuss one of the best selling fitness gadgets for home – the treadmill (wiki). Why is it so popular? Because it allows you to have the mobility that your body needs without leaving the house. In addition, it enables intense training when the weather abroad is not adequate.
If you are also thinking about buying one treadmill for your home then you probably have these concerns right now:
That the treadmill you choose is of the highest quality and does not give problems in a few days.
How to know what things to look for to choose the best treadmill for the use you are going to give it.
That you have the latest technology to take advantage of the power of Apps so fashionable.
That its design is integrated as one more element in your house.
In this article, we analyze which are the 7 best treadmills for home this year. You will also learn the tricks to select yours. Prepared? Well, let's do it.
4 things to consider before choosing the best treadmill for home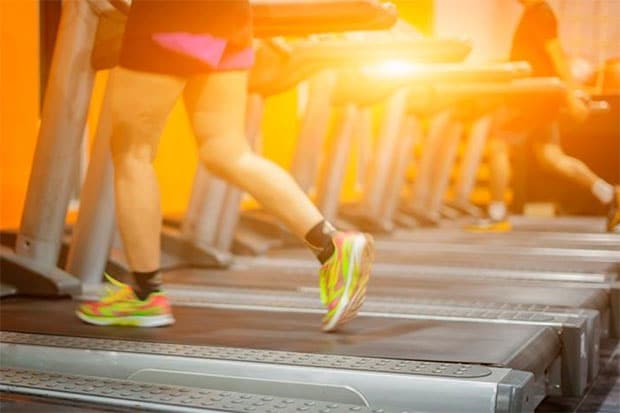 Size and density of the running area. It is the place where you step every time you walk or run. If you are a tall person, you want it to be as large as possible so that it contains your stride when running. In addition, it is important that you have a cushioning system so that your joints do not suffer.
Speed ​​and slope. Depending on the intensity at which you are going to train, you want it to reach more or less speed. Some tapes go up to 20 km/h, although the normal speed is about 15 km/h. It is also important to increase the difficulty of the training that you can vary the slope. Some allow it electronically and others manually.
Maximum weight. The tapes have a maximum weight that they support. Most of them reach 120 Kg. It may seem like a lot to you, but sometimes it is good for them to support that weight or more if we want to complicate the training with the load. If your weight is close to 100 Kg, I recommend that you choose one that supports at least 110 Kg.
Integration with Apps. It is becoming increasingly clear that Apps help improve performance by monitoring your progress. If you have the option to measure your workouts, it is very likely that you will improve and force yourself to train. In addition, many current Apps allow you to compete in real-time with other users or run while watching the recording of a popular race, elements that serve to motivate you more.
You may like: The Best Ways to Use the Treadmill – The Beginner's Guide!
Review of the 7 best treadmills for home
After analyzing all the models and comparing information from all kinds of users, these are the 7 best treadmills I have found.
1. Sportstech F10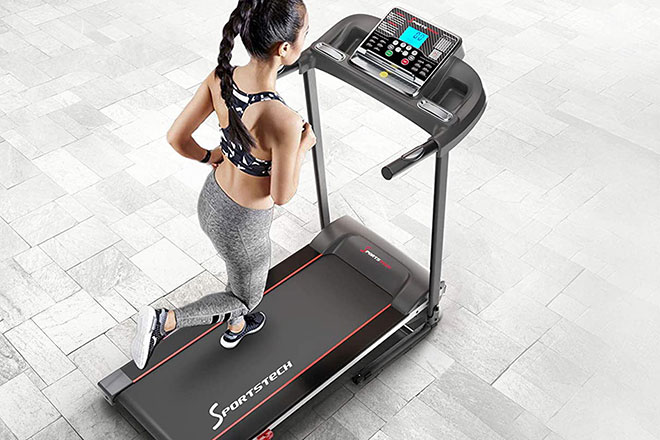 If you are not a tall or heavy person, you want a treadmill or jogging at moderate intensity and you like technology, the Sportstech F10 interests you. This model is designed for people who want to do maintenance workouts, at moderate or low intensities. However, it is capable of daily use. According to the users who use it, its motor is silent, so you could use it at any time without fear of disturbing the neighbors. Its power of 750 W is rather low, but it allows it to reach 10 Km/h. Although the manufacturer specifies a maximum weight of 120 Kg, I recommend that you do not exceed 90 Kg, since you would notice some vibration.
In addition to this, because its running surface is relatively small (101 x 34.5 cm) it is intended for people not too tall (<175 cm). Of course, the 5 layers of padding of this surface stand out for the protection of joints and knees. It has a front panel with an LCD screen that shows the time, distance, speed, calories, and heart rate. It also includes a tablet holder and 2 bottle holders.
Lastly, like other Sportstech models, it supports Kinomap technology to simulate real racing through a Smart TV, which tends to motivate you to train more often.
The best
Kinomap technology to simulate real racing.
Silent, ideal to run at any time without disturbing.
Multi-layered running surface to protect joints.
Worst
Not suitable for intense daily use.
Not recommended for tall and heavy people.
2. DeskFit DFT200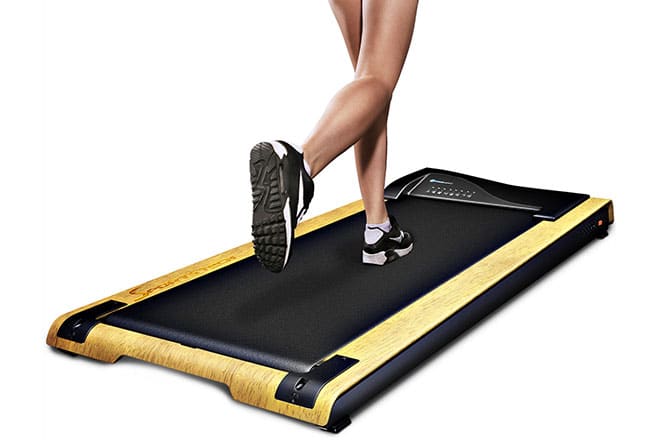 The DeskFit DFT200 is for you if you are looking for a stylish treadmill for walking or running at very low speed, that you can easily store, for low-intensity use or to walk while working. Its running surface is not very large, so it is designed for people with small strides. It is one of the most compact treadmills on the market, 17 cm wide when folded. You can store it under the sofa, bed, or even leaning against the wall, with a bracket that includes.
Think that it is not designed for big races. It reaches a maximum speed of 7.1 Km/h, so its use is more in line with fast walking than running. It does not have an LCD screen, but you can connect a tablet with a specific App to see distance, calories, speed, and other data in real-time. You can place the tablet on plastic support that includes the machine. In short, it is a machine that can come in handy to use in confined spaces and to store very quickly when you finish using it.
The best
Perfect if you have little space and want to save the tape when finished using it.
Modern and elegant design.
Advisable to walk while you work.
Worst
Somewhat high price for the benefits it has.
Not recommended for running at high speeds.
3. Fit-Force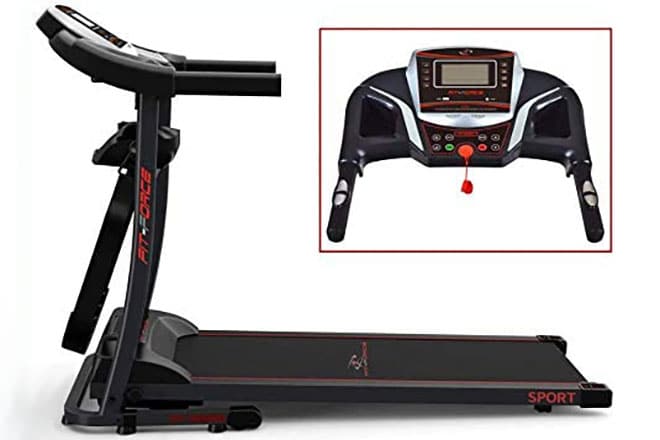 The Fit Force is for you if you want an inexpensive treadmill for daily use at a maintenance-free rate without high pretenses. The treadmill has more than acceptable power and a good running speed (15 km/h). The running surface is enough for you to use even if you are a tall person (> 180 cm). One of the features that most highlight the users who have tried it is the low noise it emits when using it. It is ideal if you want to run very early or at night so as not to disturb.
It's a foldable treadmill, although don't expect miracles. Its folding position is not too compact, it can be used to leave it in a corner so that it does not disturb but not under a bed or in a closet (unless it is very large). Its LCD screen is made of rather basic materials and measures: calories, running time, distance traveled, heart rate, and running speed. Pulsations are measured by sensors on the grip horns.
Keep in mind something: it is not a high-end treadmill, far from it. It is true that it is of acceptable quality, but we cannot ask for the performance of others that are worth 3 times more. To highlight its assembly, suitable for the less skilled. You just have to put a few screws and the manual comes in Spanish. Some users comment that it can be assembled in about 30 minutes.
The best
Affordable price.
Simple assembly.
Powerful and silent.
Worst
The console is somewhat low for tall people.
Speakers may sound louder.
Some vibration sensation when running at high speeds.
4. Sportstech FX300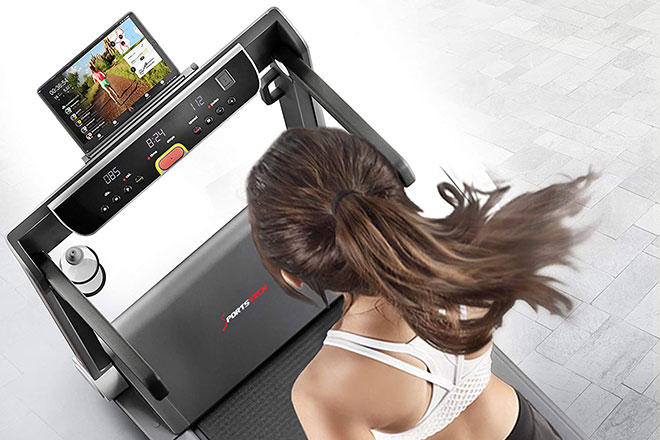 The Sportstech FX300 is for you if you are looking for a very compact treadmill because you have little space at home, you appreciate the sleek design, you don't want your height to be a problem and you have no budget problems. The FX300 is a high-end tape that convinces with its design and finishes. It is true that its engine does not make as much noise as others in the same range, but do not expect something extremely quiet.
Its running surface is one of the widest on the market, which will make running comfortable regardless of your height. In addition to having 5 layers of padding to cushion the impact of the joints. It is a tape to use every day and gives it a smooth start. Although its motor is not as powerful as the F31 (it is 1500 W), it reaches the same speed of 16 km/h.
If you are looking for something that makes you work at a high intensity, you have to know that this model has no option to vary the slope. This limitation has a purpose: that it is easy to fold and compact. What leaves this treadmill open-mouthed is its folding, being one of the most compact treadmills on the market (159.5 x 74.5 x 21 cm). You can store it in tight places like inside a closet, under a table, or behind the door.
How about your maintenance? You have to lubricate it yourself with a bottle of Vaseline that it brings (like this one ), it is not done automatically as it happens with other models. It is applied to the sides under the tape (check the manual to make sure you do it right). As it could not be otherwise, it is also compatible with Kinomap, so you can run watching real racing simulations and even compete with other users. It is true that it is a heavy belt (about 55 Kg), but it has wheels that facilitate its movement.
The best
Super compact, ideal for storing and taking up little space.
Kinomap technology to simulate real racing.
5-layer running surface to protect joints.
Wide running surface, ideal for any height.
Worst
Slope adjustment is missing.
Price not suitable for all budgets.
5. Sportstech F31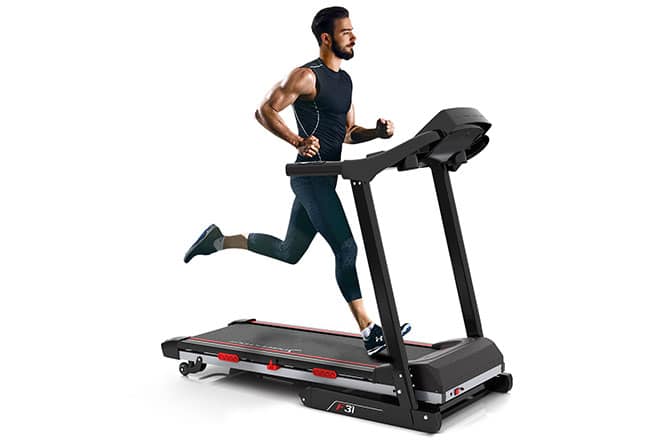 If you want a high-end treadmill for daily use, with variable slope, with technology to simulate real environments and you have no budget problems, the Sportstech F31 is a very good option. The F31 is one of the queen ribbons in its category. The reason is that it works for almost all users (tall, short, heavy, or lighter) who want exceptional performance.
The machine is prepared to give you a lot of cane (about 3000 W of power) but you will not notice excessive noise to have so much power. You can use it daily without problems at a high intensity. It allows you to reach 16 km/h but what makes the difference is… Its tilting slope! You can regulate it up to a 15% slope, ideal if you want to add extra difficulty to your career.
One of the things you love the most about the tape is its Kinomap compatible App, where you can make real routes and watch recordings of other routes on a TV to do them from home. In addition, for Android and iOS, you have the «SmartTreadmill» App with which you will collect your training data (time, calories, duration, etc.).
It is not a compact machine, so there would be no point in buying it if you plan to move it around often. Dimensions are 153 x 72 x 130 cm in use and 96 x 72 x 130.4 cm folded. Another differential point is its 6-layer padding: the running area has different layers of padding to protect the joints and knees. Its 5.5-inch screen and high-quality speakers are the icings on the cake for a machine with many positive points. It measures the usual but, in addition, the tape comes with a band to measure the pulsations.
The installation is quite simple, it will not take you more than 1 hour. What maintenance does it have? You just have to add a liquid that the manufacturer will give you before starting to use the tape, in case it had not been shipped from the factory. And then you should replace it every 50 hours approx. The price is considerable and not suitable for all budgets, which is why it has the benefits it has and its after-sales service is so impeccable, they go out of their way to solve any problem.
The best
High-quality LCD screen.
Kinomap technology to simulate real racing.
Very quiet for the power it has.
Good running surface, ideal for tall people.
Impeccable after-sales service.
Worst
Price suitable for few pockets.
Not recommended if you want to move it from one side to another often.
6. BH Fitness iBoxter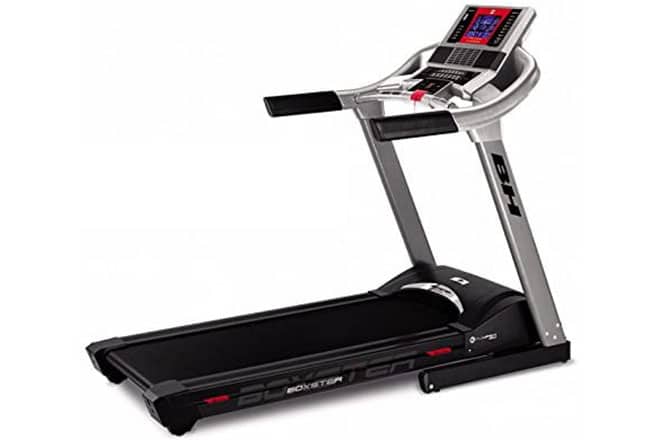 If you are looking for a professional treadmill (lose fat, prepare a marathon…), that reaches high speeds to give it intense daily use, the BH Fitness iBoxter is a candidate to consider. The BH brand is one of the most recognized in terms of gym equipment, both for stationary bikes and treadmills. Buying a BH brand tape is usually synonymous with quality and durability.
If you need a top-quality treadmill and you are sure that you will give it intense daily use, the BH is among the most reliable. It has an extra-wide running surface, so you can run very comfortably regardless of your height or weight. It is one of the fastest speeds (up to 20 km/h) and has an electronic slope regulation system that reaches up to 12%. If you want cane in your training, you will have it.
Despite the fact that its motor is powerful (up to 2500 W) its consumption can be reduced with an ECO mode by up to 25%. The manufacturer does not make clear how it does it but ensures that with this function we reduce energy expenditure to that extent. To highlight its cushioning system using its own technology: it reduces the force of the joint and back impact with the 6 elastic elements on the running surface.
On the other hand, if what you need is a compact tape to be able to put it aside when you do not use it and you need to move it often, the BH is not the most recommended. Folded, it still has excessive dimensions (125 x 94 x 156 cm). However, it is true that moving it is not so complicated thanks to its transport wheels. In addition to its 14 predefined programs, you can connect via Bluetooth with countless Apps for virtual races: Run on Earth (Android/iOS), BH by Kinomap (Android/iOS), Fit Console (Android) and Tread Monitor (iOS).
The best
It reaches high speeds, perfect for intense workouts.
Different Kinomap apps and technology to simulate real races.
Wide running surface, ideal for any user (regardless of weight or height).
Electronically adjustable slope to increase the difficulty of the race.
Worst
Does not include a heart rate band.
Not advisable if you have little space at home.
Price not suitable for all budgets.
You may also like: Top 10 Most Wished Treadmills – Best for Cardio Training.
7. Fitfiu MC200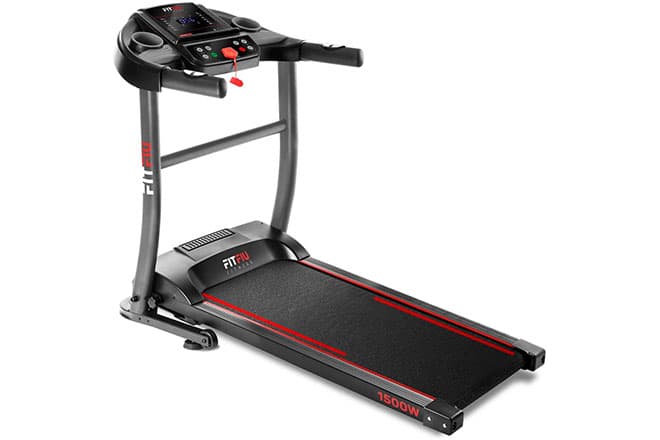 The Fitfiu MC200 is for you if you are looking for a basic treadmill, without great pretensions, to walk or to run at a trot, you are not a tall or very heavy person and you have a low budget. Although the Fitfiu does not have as many functionalities as other tapes, it has positioned itself as one of the best sellers for 2 reasons: its low cost and the positive ratings of users who have used it.
Despite its low price, it has a good 1500 W motor and reaches 14 km/h. However, it is not a machine as robust as others, so I do not recommend it if you are a large (> 175 cm) and a corpulent person. It has a running surface 110 x 40 cm, something fair to run if you have a long stride. Something to note is that it is not a noisy machine, as long as you do not run at high intensity.
The LCD screen measures the typical: speed, time, distance, calories consumed, and heart rate (monitored by the sensor on the handlebar). It comes with 12 predefined training programs, perfect if you want something programmed. Its control panel has a sound input, so you can connect your mobile, and integrated speakers. It also has a tablet or mobile holder, so you can put on the content that motivates you the most, and supports 2 bottles.
The machine can be folded, although it is not too compact (110 x 60 x 50 cm). Of course, it is light and you can move it without problems thanks to its scroll wheels.
The best
Very affordable price.
Good user ratings.
Powerful motor and good speed.
Worst
Somewhat fair running surface for tall people.
Not recommended for intense training.
Upgradeable speakers.
This article is written by Selena Richard. Selena is a blogger and a guest contributor for a well-known brand that includes MESHEBLE. In her leisure time, she plays tennis.